Nicole Russell
Executive Director
E-mail Nicole

Nicole has 14 years of Capitol Hill, federal lobbying, corporate communications, and nonprofit experience in government relations, specializing in education policy. She started her career in government relations as a federal lobbyist representing cities, counties, and school districts across the United States. An active-duty Marine spouse, Nicole has served in leadership roles on several military nonprofit organizations in Washington, DC and Okinawa, Japan.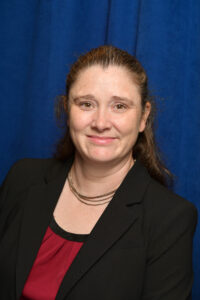 Anne O'Brien
Director, Communications
E-mail Anne
Anne oversees NAFIS communications, branding and messaging to external audiences and NAFIS members; works on NAFIS membership recruitment, renewal, and engagement strategy; and manages the activities of the Federally Impacted Schools Education Foundation (FISEF). She also serves as an appointed member of the Arlington (VA) Partnership for Children, Youth and Families (APCYF), chairing the commission in 2018. She comes at her work from a classroom perspective, beginning her career as a high school science teacher.
Lynn Watkins
Director, Operations & Conference Services
E-mail Lynn
Lynn has been on the NAFIS team for over 30 years and her role within the company continues to grow including conference planning, financial, and membership oversight. Lynn has two wonderful dogs, Georgie & Cooper, who keep her entertained when she is not busy planning conferences or talking to NAFIS members.
Angela DiLeo
Assistant, Policy & Communications
E-mail Angela
As the newest member of the NAFIS team, Angie works directly with the Director of Communications on weekly outreach, information alerts, and member engagement. She is the lead on organizational and technological needs for the organization and assists with all facets of conference planning and execution. Angie represents NAFIS as she travels, assisting with FISEF workshops across the country.